TQ5839 :: The Old Odeon Cinema
Taken 11 years ago by N Chadwick near Royal Tunbridge Wells, Kent, England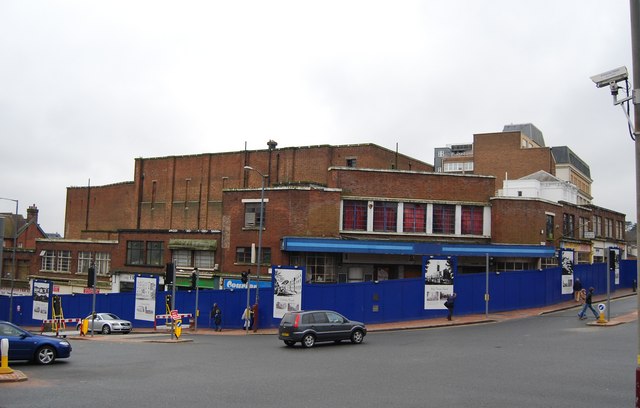 The Old Odeon Cinema
Originally the ABC cinema, then the Odeon. This cinema closed in the 2000 as the cinema moved to a larger multi screen complex on the edge of town. It has remained derelict since, but is now earmarked for redevelopment (if it ever happens).
Former ABC cinema & shops site, Mount Pleasant Road
The three-screen cinema at the corner of Mount Pleasant Road and Church Road closed in October 2000, after a new multiplex opened on the edge of town. The building was built around 1934. Previously the site was Belvedere House. Along with the adjoining shop buildings on Mount Pleasant Road and Church Road, the site had numerous planning applications and owners since it was disused in 2000, and the old buildings were finally demolished and cleared in 2014. A new planning application for the site was submitted in July 2017. It includes retail and restaurant use, cinema, and 99 flats (Application ref 17/02262/FULL ).
·
Find out How to reuse this image
· Share:






·

Download Image
·
(click any of the following to view more images)
---
View full page at geograph.org.uk/photo/1763811