SK5739 :: Stained glass window, St Peter's church, Nottingham
Taken 3 years ago by Julian P Guffogg near Nottingham/SK5641, City of Nottingham, England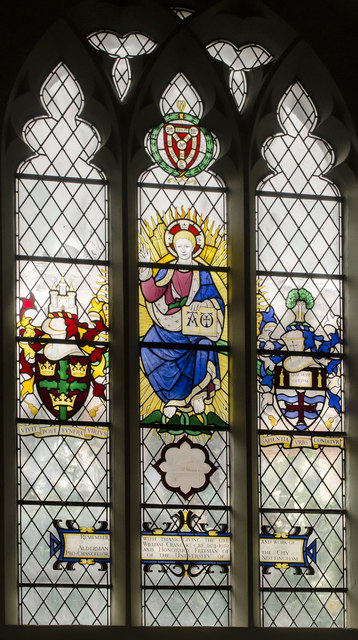 Stained glass window, St Peter's church, Nottingham
Glass from 1963 in memory of Alderman Sir William Crane CBE JP (1874-1959). Erected by John Bucknell, to a design of his uncle Sir Ninian Comper (1864-1960).
St Peter's church, Nottingham
(Actually St Peter with St James church). Grade I listed The church stands in the centre of the modern city, and dates back to the 13th century, although there was a Norman church before that which was destroyed by fire. It consists of a west tower with spire, nave with clerestory, north and south aisles of five bays, north transept, chancel and vestries. The south arcade dates from the 13th century, and is part of an earlier church. The west tower dates from 1340 and has an octagonal spire. There are 13 bells. The north aisle was built around 1360, and clerestories and battlemented parapets were added in the late 15th century. The chancel and north transept were added in 1877. The church underwent many restorations over time. It was extensively damaged in 1644, and major restorations occurred in the 18th and early 20th centuries. There is a 17th-century font on an earlier stem, and several memorials of interest. The church also contains several modern stained-glass windows.
·
Find out How to reuse this image
· Share:






·

Download Image
·
Larger Sizes
(click any of the following to view more images)
---
View full page at geograph.org.uk/photo/4637632