NS2059 :: Barry The Barrel at Largs railway station
Taken 4 years ago by Thomas Nugent near Largs/NS2059, North Ayrshire, Scotland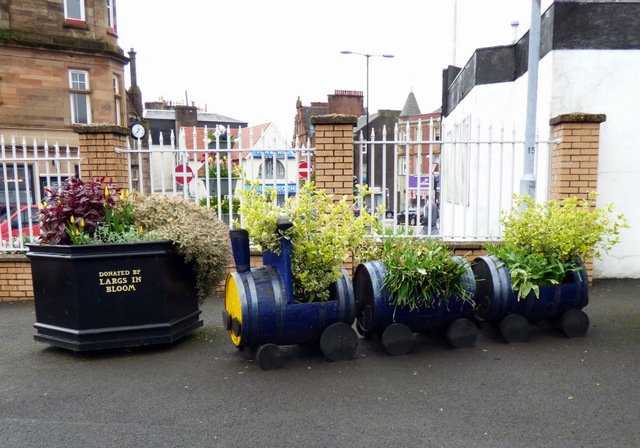 Barry The Barrel at Largs railway station
Hyndman Green is in the background.
Scotrail Barry The Barrel
Barry The Barrel is the nickname given to the steam train shaped planters made from old whisky barrels which can be seen at many Scottish railway stations. Nomally Barry is provided and maintained by sponsors such as local Rotary Clubs and the likes. Barry has a 2-2-0 wheel arrangement, a tall chimney and round buffers, all reminiscent of Robert Stephenson's "Planet" of 1830. Painted in Scotrail blue, with high visibility yellow ends, seen with varying numbers of trailing coaches and sometimes double-headed with another Barry.
·
Find out How to reuse this image
· Share:






·

Download Image
·
(click any of the following to view more images)
---
View full page at geograph.org.uk/photo/5397188